Home
/ Products / RPA / NICE RPA
NICE RPA
NSE NICE RPA
By 2020, customers will manage 85% of their relationships with companies by self-service (Source: Gartner).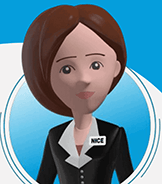 What is RPA?
Robotic - An entity which is capable of being programmed by a computer for doing complex tasks. In terms of RPA, this task would be to mimic human actions.
Process - A sequence of actions or steps taken in order to achieve a particular end.
Automation - When a task happens automatically without human intervention.
RPA - Mimicking human behavior to execute a sequence of steps/actions which leads to a meaningful end without human intervention.
Why RPA?
Lower Costs

Improved Efficiency

Elimination of Human Error

Eliminates Customer Pain Points

Improved Capacity for SLA analysis
Why NSE NICE RPA?
Enterprise-grade solution.

Meets the strictest security standards.

Includes a robot control room framework.

The largest automation projects in the market.
Winning combination of attended and un-attended automation.
Part of a wider portfolio of NICE solutions.

Desktop Analytics to identify automation opportunities

.

Integrated in Back Office Suite & full NICE portfolio.

NSE NICE Nexidia Integration with text and voice analytics

.
Innovation with AI Capabilities.

Covering a wider range of automation use cases, involving higher complexity.
Experience and proven success

.
Long track record of automation.
NSE is the first company in Taiwan that successfully deployed RPA solution.
For more information: NSE NICE RPA